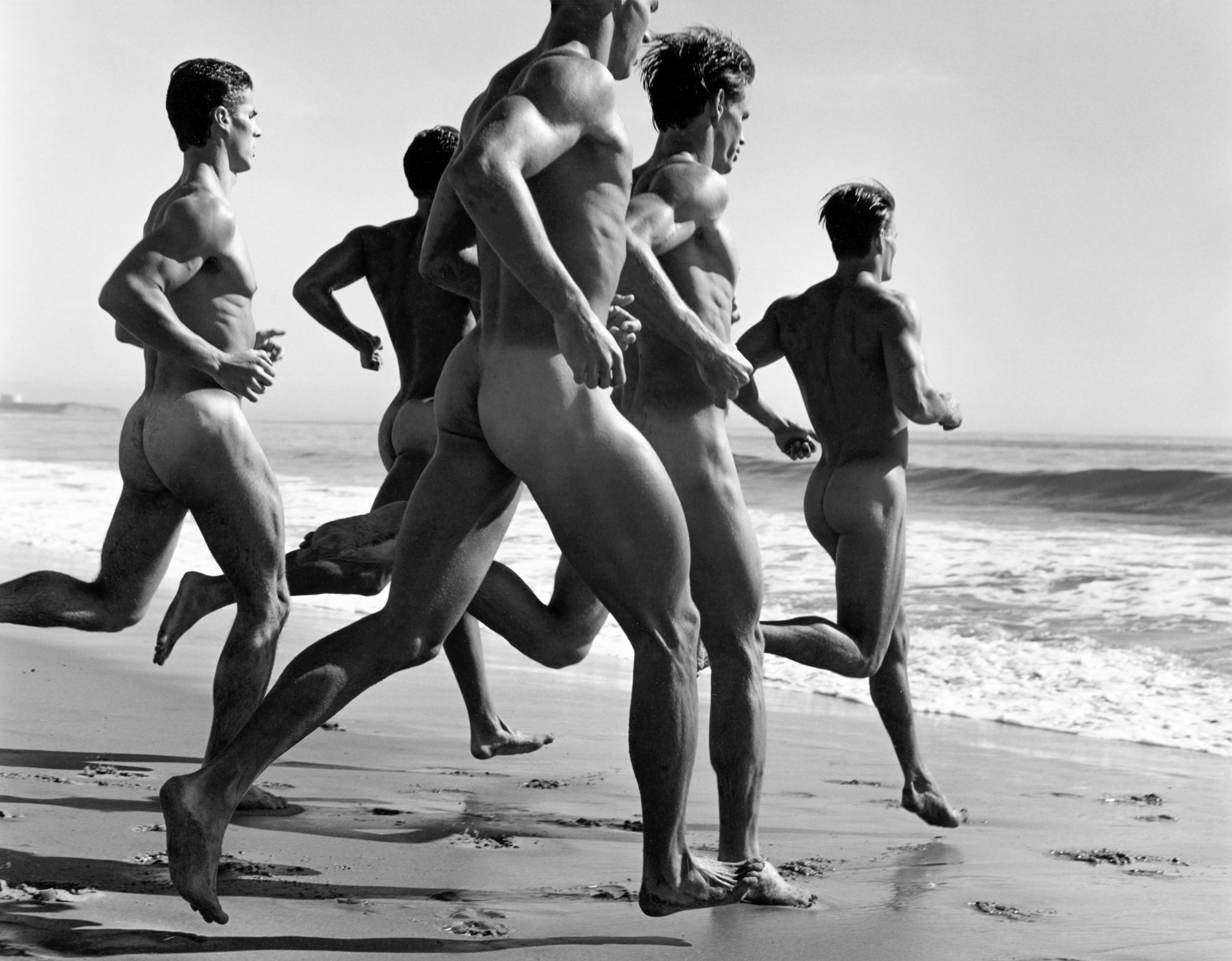 And Bruce created men.
For the third exhibition at Galeria Alta, again one of the greats: Weber, the photographer who revolutionized advertising in the 80's and 90's.
Before Weber, women were the absolute queens of advertising. Because it was Weber (Pennsylvania, 1946), who elevated male models to the category of the object of desire that had until then been solely focused on women. It may seem obvious today, but in the 80's it was a real revolution and he was the first. Just google and search for Weber's first works for Calvin Klein; these monumental torsoed individuals dressed (or not) in well-fitting underwear and with a confident attitude. Then came Ralph Lauren, Abercrombie, Versace and endless others. And to this day, Weber's work has spanned nearly five decades. He is one of the most imitated photographers. When you enter Weber's universe, you immediately have a feeling of déjà-vu: it is very likely you have seen the work without knowing the author, or his imitators, because almost all the fashio, fragrance and beauty advertising that has come after Weber has been influenced by the iconography that he created.
This living myth of photography from the last third of the 20th century has been invited to exhibit at Galeria Alta, a miracle that Pancho Saula and his wife - the South African model Michelle Ferrara - opened last September in Anyós and where Vivian Maier and Joel Meyerowitz have already exhibited. Now it's Weber's turn, and they have chosen together with Weber more than 30 photographs under the title "Turn to the Light". There is, says Saula, a great selection of works, from male (and also female) nudes that compete perfectly with those of Mapplethorpe - perhaps without their sexual charge - to the pictures of the American photographer's everyday life, with a prominent place for the seven retrievers he lives with, and portraits of celebrities from the golden Hollywood of the 90's, from Leonardo Di Caprio and River Phoenix to Sean Penn and Drew Barrymore. Most in black and white, which is also one of its distinguishing features.
Weber portrays an hedonistic America still confident and happy, that seems to come from a luxury catalog: the swan song of an era. A proposal that is exactly the opposite of that of Maier, the anonymous documentary photographer who merged with the urban landscape to leave a notarial record. Also contrasting to Meyerowitz, the guru of street photography. And this is the interest of Galeria Alta, which brings us a selection of the greats of the twentieth century to Andorra. Always with the Saula touch, which consists of showing "only what I like" in an intimate setting : remember that visits are always "by appointment" and that the gallery is not classical gallery, but the walls of the magnificent villa that the couple have in Anyós, with great views of the Carroi Mountain.
It is in this unusual but extremely welcoming context that he exercises an apostolate which consists in preaching the good news of photography understood as a work of art and, therefore, appealing to be collected: "I see it as the winemaker who invites you to spend an afternoon in the winery, touring the property, tasting and learning its secrets. What I propose is an experience. " And this is exactly what must have seduced Bruce Weber, great photographer and also remarkable filmmaker: Broken Noses (1987) he was on the verge of winning at Sundance; with Let's Get Lost (1988), a very personal portrait of trumpeter Chet Baker, was nominated for an Oscar, and The Treasure of his Youth (2021) claims the figure of photographer Paolo di Paolo.
We are not talking about art for all budgets, as the price of the originals - a limited series of 10 to 15 copies - ranges between 7.500 and 27.000 euros. But buying is not mandatory, obviously, and at least, visitors will take with them a handful of succulent anecdotes, such as the report that, in his other hat, that of an agent, Saula has just coordinated in Los Angeles a production with the Spanish photographer Txema Yeste, whose work will be exhibited one day soon in Anyós: a campaign of a certain brand of watches with a Greek letter name (the last one, come on) that on July 21, 1969 traveled to the moon aboard the Apollo 11. Do you know who the model was? Buzz Aldrin, the last living astronaut on the mission. Saula was at his home and shook hands with the man who walked the Moon right after Armstrong. I shook my hand with Saula's and I haven't washed it yet. Maybe I'm hooked on a bit of heroism.